Reinventing the strip club
This new reality has hit the contact-based industries the most. Massage studios, hairdresser and yes, your local strip club are the last to be expected to go back to business. But it is not all doom and gloom. Below Elite has done some research in the industry and found out that necessity is the mother of invention, once again.  Strip clubs have been exploring ways to reinvent themselves, with some success.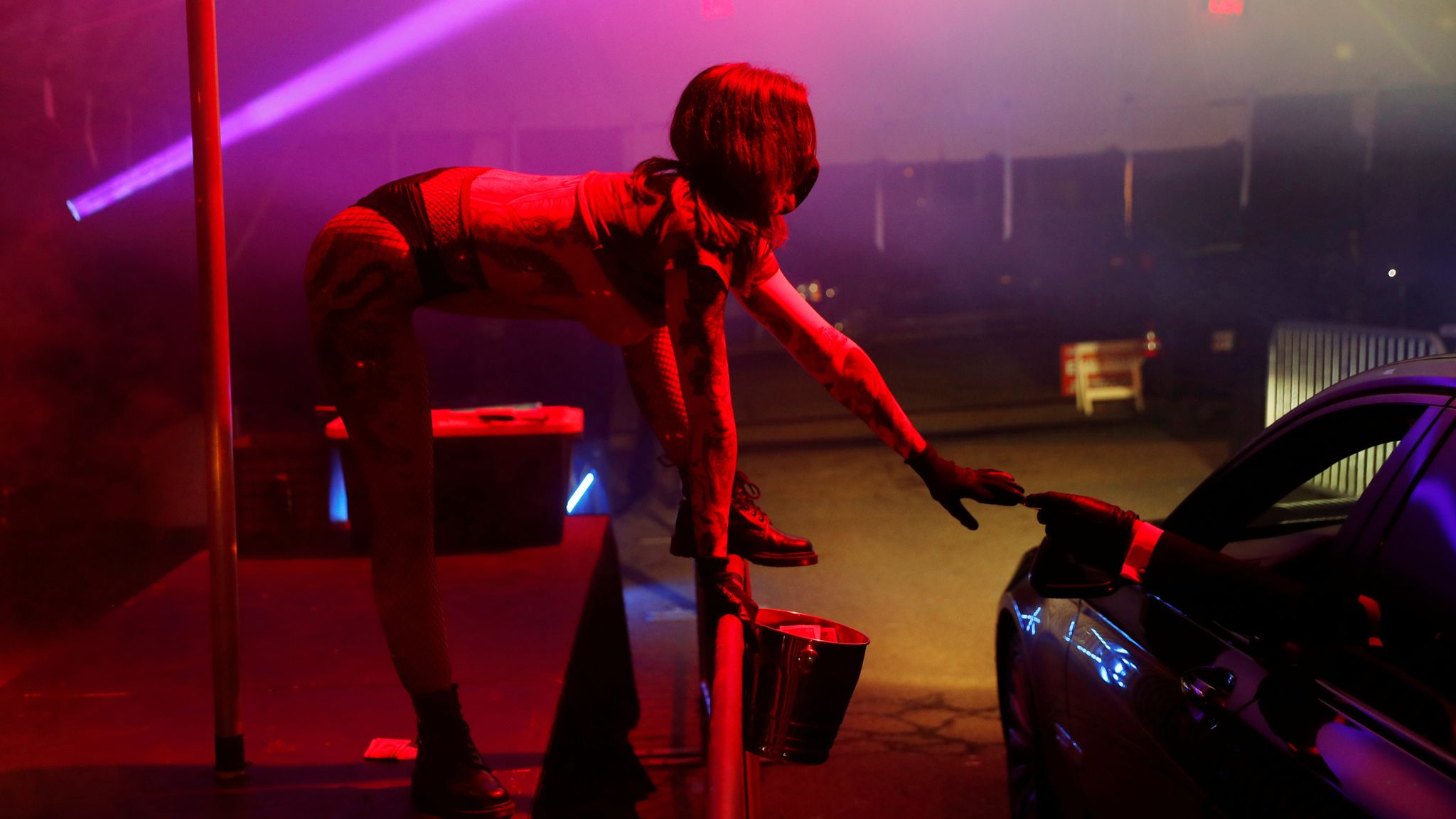 Lucky Devils Click and Collect ( source Skynews) 
Drive-Thru Strippers
Strippers in the age of COVID-19, need to pivot. For strippers reinventing oneself was nerve an issue. Creativity is key to the success of the butterflies of the pole. 
While much of Nevada has closed in compliance with Gov. Steve Sisolak's 30-day shutdown order to fight the spread of COVID-19, a Sin City strip club called Little Darlings remains open with a new menu of coronavirus-inspired options. "We're going to offer drive-up window strip shows," Ryan Carlson, director of operations for Little Darlings, told the Las Vegas Review-Journal and KSNV-TV "Guests can drive up to the front door and we're going to have dancers separated by the 6-foot separation rule and they can enjoy a totally nude show right from the seat of their car."
The drive-up shows last 10 minutes and cost $100. They will begin at 8 p.m. Saturday, according to the Review-Journal.
Ready for service ( source: Lucky Devil Eats)
While we admire the creativity we can but only wonder what would happen if a family confuses the queue of cars to strip-club with the queue of cars to the next door McDonalds.
Takeaway Strip Club
Lucky Devils, in Portland, Oregon, became Lucky Devils Eats. The club had already a kitchen and they kept it going. Then they added an obvious extra. The girls would perform under the canopy while the customers are waiting safely in their cars. Complete with gloves and face masks, the shows are similar to those of fetish club. The tips were collected into a bucket, the drivers and the girls work together, more or less like in any other striptease delivery business. But instead of the driver keeping an eye on drunk stags, while the stripper sheds light on the bare parts, he stays indie while the strippers deliver burgers and boobs. 
As delivery services have hit an all high, with DPD in Ireland hiring an extra 120 drivers during the last month, we can see this trend taking off worldwide.
At the end of the day, during a difficult time the society has to pull together, and there is no place for the usual prejudices. If strippers offerto deliver goods, then why not take on the offer. And what can go wrong with a burger box delivered by a topless performer.
Fun fact: Lucky Devils are well known in the Striptease world, as one of their dancers, Elle Stranger is also an accomplished writer or stipperwriter.
Sanitiser Wrestling
In Nevada, Little Darlings will also feature another new live event: Nude sanitizer wrestling.
"America is a free country," Carlson said in a statement to KLAS-TV, "and strippers will continue to be a part of the fabric of American life."
A few operational details will need to be fine-tuned though. How close will the show be to the public? Will the use of sanitiser make it safe for a proper testing session. And most of all, which sanitiser will be used? I am not an expert in sanitisers, but after rubbing about a ton of sanitiser on my hands the last 2 months, I feel like a lab before the inspection.
Car Wash Strip Show
Surprisingly enough, we haven't seen this classic from the eighties come to life. The truth is that whenever it was tried it failed. Who in their right mind would want to spend hours doused in industrial-grade foam? And if you think of Ireland and the UK, the weather pops to mind. Having said that Bubbles and Babes, a topless car wash in Leicester, battled it for 7 years before putting an end to their bubble party
A clean act ?
But how difficult could it be to set it up?
First, you would need the space. Industrial estates with big garages and oil changing facilities can come handy.
Then the girls. With most strip clubs closing their doors, it won't be hard to find the right employees. Who would they be? Trained dancers that can balance their beauty on high heels while parading the soapy floors of a garage.
The question is: How will the car look like after the ladies have finished polishing your vehicle? And would the performance replace the fun of lapdance? Will sliding down the bonnet of a car in a bikini substitute the good auld grinding of a lapdance? How about the boobilicious displays of affection?
Just because the customers will be inside their cars, doesn't mean that they will stop misbehaving. When it comes to the legislation that covers the world of erotica, nothing can be left to chance.
And most importantly how many men with a dirty car and a dirty mind are prepared to pay for this type of a show?  I suppose we can always wait and see.
Another idea would be to turn the Topless car wash on its head and offer top quality comic relief.
All the strip clubs need to do is to get the girls to do the doors and the bouncers to do the topless car wash.
Boober Eats – A strip Club that beats Deliveroo any time
Back in Oregon, the Lucky Devil is distributing their corndogs and steaks with topless dancers surprising the hungry customers. They will be getting a special delivery of edible delights and unforgettable sights. Even though the club is still offering its stripper food delivery service, they can't call it anymore "Boober Eats." Boulden the owner, said after they received a cease-and-desist letter from the ride-share company Uber.  Now as Lucky Devil Eats they keep the thong flag flying high in this part of 'Murica.
Topless taxi drivers vs Strip Club
Elite searched the world wide web to validate this business idea. Seemingly, no top boobs with a valid PSV licence have decided to offer this essential service. We imagine it as a taxi service, where the taxi driver can start in her normal attire, moving on to the removal of different layers of her clothing as the soundtrack fills the cab. What could go wrong? Oops, public nudity laws in Ireland. Yes, they are a proper cold shower they are.
Topless Strawberry Pickers
With Keeling's importing planes of hard to find professional pickers, we have thought of adding some spice to the agriculture industry. Forget the burly Bulgarian lads doing 12 hours a day on a strawberry farm. If strippers can pick 5 euro notes faster than a pickpocketer, they can surely pick strawberries as well. While the show aspects would be lost, Keelings could definitely work out a guerilla marketing campaign. Their strawberries will not be only the freshest in Ireland but Keelings will also have definitely better mascots for their produce.